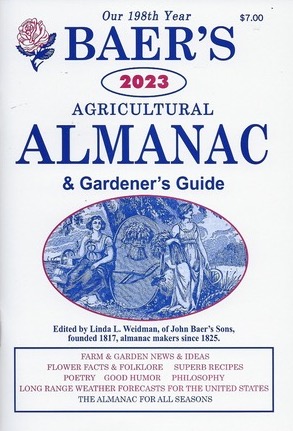 Tradition continues, as it has for almost 200 years, bringing readers a lot of history, gardening information along with the all-important movements of the sun, moon and other heavenly bodies. Almanac users will know when to plant what, and even when to fish!
There are some fascinating American history stories in this 198th edition. This will be the year to celebrate the 350th anniversary of Marquette and Joliet's exploration of the Mississippi River. Three hundred years ago James Monroe established his famous doctrine about the Western Hemisphere. And just 250 years ago the patriots in Boston were preparing for their famous "tea party."
There are tales of innovation, such as the developments of cellophane and the bulldozer, and the story of Phillip Mazzei, whose attempts at viticulture were less successful than his work with silkworms. It's hard to believe, but it has been 50 years sine the brief vice presidency of Gerald Ford. We also take a look at the demonstration at Wounded Knee and the completion of the World Trade Center.
Baer's Almanac is a great and thoughtful gift – buy two copies and save on postage. Better yet, if we send you three, the postage is on us!